Home
/
Isabella Archibald - December 3, 2019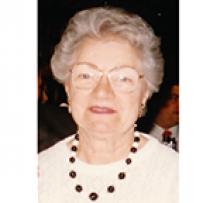 Isabella Jamieson Archibald (nee Dick) - December 3, 2019

May 14, 1927 - December 3, 2019

Isabel leaves behind sons, Alister (Catherine) and Peter (Ryan). She was predeceased by husband Leslie and daughter Jaki.

Mum was born in Edinburgh, Scotland, growing up in Fountainbridge. She met the love of her life, Les, when they were 14 and 15 respectively, marrying in 1951. They immigrated to Canada in 1957 with their first two children, Al and Jaki, Peter being born a few years later. They spent the entirety of their lives in Canada, in the West End of Winnipeg.

Mum was an avid baker, known for her scones, pies and shortbread. She volunteered for many years at the Pavilion of Scotland as well as at the Manitoba Highland Dancers' Tartan Tea. She was a proud supporter of the Scottish community in Winnipeg, being a life member of the Robert Burns Club.

Mum passed peacefully at St. Boniface Hospital after a very brief illness. The family would like to convey thanks to medical, nursing and support staff on Ward B4 for taking such wonderful care of Mum in her final days.
She was a lovely, gentle soul who will be missed by her small circle of friends. Special thanks to friends, Maria and Anna for their kindness and support.

Cremation has already taken place and at Mum's request, there will be no memorial service.

In lieu of cards and flowers, we'd like to request a donation to the charity of your choice in Isabel's memory.