Home
/
Terry Leah - August 12, 2019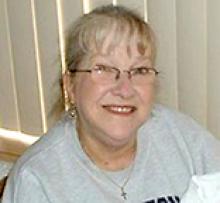 Teresa (Terry) Dawn Leah

It is with heavy hearts that we announce the passing of Terry Leah on Monday, August 12, 2019.

She will be deeply missed by her nieces Kimberly (Alex), Amanda (Brian), and Leah-Marie; and especially her dog Quincy, they were the joy of her life. She was predeceased by her mother and father.

Terry has always kept her friends and family close to her heart. She loved volunteering and making new friends wherever she went.

Terry worked at Air Canada for 34 years where she joined in many activities and did a lot of traveling. After retiring she joined the Air Canada Pionairs.

Terry joined the Rebekah's and Odd Fellows association in 1960. She held many offices over the years. This year she was installed as Warden of the Rebekah Assembly. She was also an active member of Stonewall Odd Fellows.

The office that she loved most was Advisor of Letita Theta Rho, where she guided young girls into young Ladies. But she was more than an advisor she was their friend and mentor.

Terry was also a dedicated member of St. George's Anglican Church of Transcona. If you ever met Terry you would always remember her and her beautiful smile.

Cremation has taken place, and a Celebration of Life will be held on Tuesday, August 20 at 1:00 p.m., in the chapel of Voyage Funeral Home, 220 Hespeler Ave at Henderson Hwy.

In lieu of flowers donations may be made to the Odd Fellows & Rebekah's Memorial Eye Foundation.