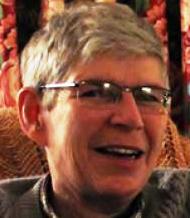 Unexpectedly, on November 20th, John Alexander Gunn went to be with his Heavenly Father. He was predeceased by his parents, Bruce and O'Dare, brother Ron, and sister Anne. Left to cherish his memory are his brother Bruce (Sharon), and his nieces Kathleen, Megan (Michael), and Kayla.

John was a lifelong member of St. George's Anglican Church, Crescentwood where he was very involved with his church community. He was in the church choir for many years and his love of singing led him to join several other choirs in his lifetime.

John loved canoeing, camping, and being outdoors. These passions were nurtured through his long association with Manitoba Pioneer Camp and Scouts Canada. He was introduced to both organizations as a child, and remained involved for many years as a councillor, leader, and supporter. Volunteering in numerous capacities in various organizations throughout his life, John gave back to his community and will be sorely missed.
We are grateful to the medical staff at CancerCare and elsewhere, who supported John throughout his long illness.

In lieu of flowers, donations may be made to Manitoba Pioneer Camp, CancerCare Manitoba, 675 McDermot Avenue, Wpg, MB, R3E 9Z9 or a charity of choice.

A Memorial service will be held Monday, November 30th at 2:00 p.m. at St. George's Anglican Church, 168 Wilton Street.